Paragliding in Uttarakhand
The lofty mountain peaks of Uttarakhand make ideal location for the dare devil sport of paragliding. The unique topography of the state. With magnificent Himalayas in the north and the plains of terai in the south, promise an unforgettable paragliding experience over dense forests, lush green deep valleys, and the snow covered peaks of the Himalayas.

Considered among the best in the world, a host opportunity is on offer for both the beginners and the more beginners and the more experienced. Besides various private paragliding clubs. GMVN and KMVN offer joy rides as well as paragliding courses.

Paragliding is an exhilarating experience - after all who wouldn't love to get wings like a bird and fly away from his earthly stresses. paragliders can fly in the air for hours with help of the glider and climb to altitudes, more than 10,000 feet high. One can also opt for cross country flying adventure covering vast distances.

Some of the ideal paragliding sites in Uttarakhand are Naukuchiyatal - Dhanaulti Ridge, Rishikesh, Dayara Bugyal, Pratap Nagar, Bedni Bugyal and Pithoragarh.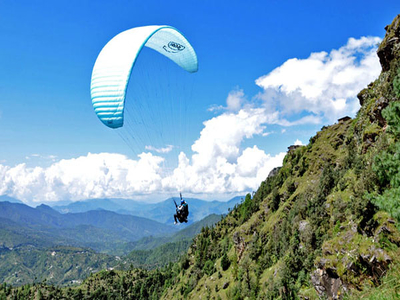 Ranikhet Paragliding
Paragliding Camp is 12 Kms from Ranikhet. The packages stars from Rs 3250 per person.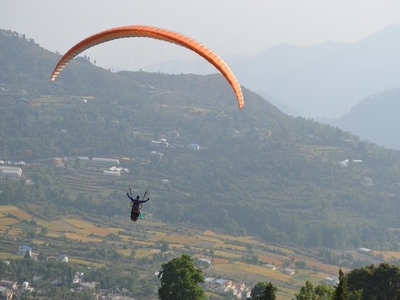 Mukteshwar Paragliding
Camp Purple offers the paragliding courses and packages in Mukteshwar, starting at Rs 4000 per person.
What Is Paragliding?
Paragliding is a recreational and competitive flying sport, which is recently getting much popular. A foot-launched aircraft, a paraglide falls in the category of un-powered fixed-wing aircraft. All that makes up the paraglide is an arc of nylon cloth shaped aerodynamically. The pilot has to sit in a harness suspended below a fabric wing. The suspension lines and air pressure entering the vents in front of the wing help form its shape. The pilot after going through pre-flight checks begins running down a slope. The cloth canopy gets inflated and comes overhead and in few more steps the pilot becomes air borne. The glider is controlled by manipulating the control lines.
Paragliding Destination In Uttarakhand
Paragliding in Uttarakhand can be done at Ranikhet, Mukteshwar and Naukuchiayatal in Kumaon region. Some other ideal gliding places Dayara and Bedini Bugyal (Uttarkashi-Gangotri road), Pratap Nagar and Dhanaulti Ridge.
Safety Measures
Paragliding is like any other adventure activity where you experience the sprint of adrenalin and the factor of risk is not any more than possibly swimming. A pilot approach and excellent judgmental ability are of supreme importance to make sure safety.
Safety measures contain harnesses with back protection, helmets, reserve parachutes, and other pre-flight checks. In addition to this, simple procedures like keeping an eye out for the climate to see if it is favorable for a secure flight, lack of any form of turbulence, extreme wind speeds, overcast circumstances indicating atmospheric instability always come in handy. Still, a immense amount of vigilance needs to be observed as you are thousands of feet in the air and a slight fault can result in terrible consequences.
Equipments for Paragliding
The important equipment consists of a glider and a harness that connected the paraglider tightly and safely to the pilot. in addition you will need a helmet especially made for gliding (light and brawny), shoes & gloves, a reserve parachute and a variometer (may or maynot hold a GPS) to estimate the ascent or descent of the glider.