Hotel SS International Badrinath
Hotel SS International Badrinath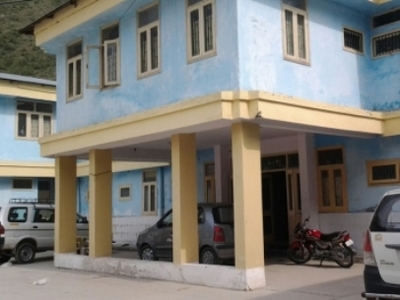 Hotel S S International is a jewel amongst the deluxe or luxury category hotels in Badrinath. At just 5 min walking from the Badrinath Temple, the hotel provides a private and comfortable resting place for the weary pilgrims and tourists all over the world. Such is the dedication of the staff at hotel that their devotion for their guests justifies the long standing tradition of Atithi Devo Bhav in Dev Bhoomi Uttarakhand. Its because of this reason the Hotel has been successfully able to maintain its reputation since the year of its inception.
Rooms and Accommodation in Hotel SS International Badrinath
The hotels provides deluxe and comfortable accomodations at affordable prices to tourists and pilgrims from all over India. The accomodation is provided in categories of Bedrooms and Dormitories based on the requirement, budget and size of guests contingent.
Facilities and Activities in Hotel SS International Badrinath
Facilities: Fully furnished, spacious, attractive decor, attached bathroom with 24X7 running hot and cold water, cable television, breath taking view with top class service.
Services: Restaurant, 24X7 power backup, dedicated staff, travel desk,parking, etc
Recreational Facilities and Activities: Sightseeing arrangements, Mountaineering, Camping, Trekking arrangements nearby.
Dining in S S International, Badrinath: Guests are catered by dedicated kitchen staff that deligently prepare hygenic and delicious recipes thus combining taste with health.
Tariff in INR (Indian Rupees)
| Room Type | Tariff |
| --- | --- |
| Double Room | On Request |
| Dormitary | On Request |
Location of Hotel SS International Badrinath
The hotel is located near temple on old Mana road in the holy city of Badrinath in Garhwal region of Uttarakhand. It is situated at a height of 3100 meters above sea level and on the banks of the Alaknanda River. In between the Nar and Narayana mountain ranges, it is 9 Km east of Nilkantha peak. Badrinath is located 62 Km northwest of Nanda Devi peak and 301 Km north of Rishikesh. Gaurikund (near Kedarnath) is at a distance of 233 Km from Badrinath.
Nearby tourist locations to visit from Hotel SS International, Badrinath
Badrinath Temple, Tapt Kund, Narad Kund, Panch Dharas, Brahma Kapal, Charanpaduka, Bhim Pul, Vyas Gufa, Vasundhara Fall.
Hotel SS International Badrinath Address for Online Booking and Reservations
Hotel SS International
Near Bus Stand, Badrinath,
Uttarakhand, India
Call us at: +91-9456715298, 8650261427